Since its advent in the 1970s, Metal Injection Molding technology has successfully taken a significant market share from conventional manufacturing technologies – such as PM, investment casting, die casting, stamping and machining – in the production of small metal parts. MIM's shrinkage ratio of more than 12% enables designers to create extremely small components with the finest of details, and the MIM industry's ability to manufacture high volumes of small, light parts coincides with the consumer's desire to carry and wear ever more electronic devices. MIM's competitiveness is keeping pace with the demands of the smartphone industry and the technology continues to thrive.
Today, significant activities are being undertaken to meet the demands of the coming 5G revolution. When looking at each generation of mobile networks and telecommunications technology upgrades, a corresponding proportional growth can be seen in MIM's global gross product for the 3C sector.
As part of the development of a new generation of smartphones, Chinese manufacturers have been striving to improve the overall screen size of smartphones and avoid the 'notch' screen design that intrudes on the display of the current generation of Apple smartphones. This notch houses systems including sensors and the front camera modules. The production of smartphones that use a 'micro-gear reduction module' to enable the raising and lowering of a hidden 'pop-up' module, avoiding the need for the camera to intrude on screen space, began in the second half of 2018.

This module has become a highlight of Chinese smartphones in 2019. It is estimated that demand in 2019 will exceed 200 million units. Each unit includes micro-gears of less than 1 mm in diameter, micro-cylindrical gears, and internal gear modules. Each module has at least twelve micro MIM parts, requiring a total of more than more than 2.4 billion MIM components in 2019 alone for this single application.
Metal Injection Molding has been used extensively on smartphone camera systems for many years. These cameras have many advanced functions, from features such as portrait mode to face ID systems for security authentication, and may require multi-lens systems and sensors to function. The correct positioning of these precise modules in relation to one another is vital.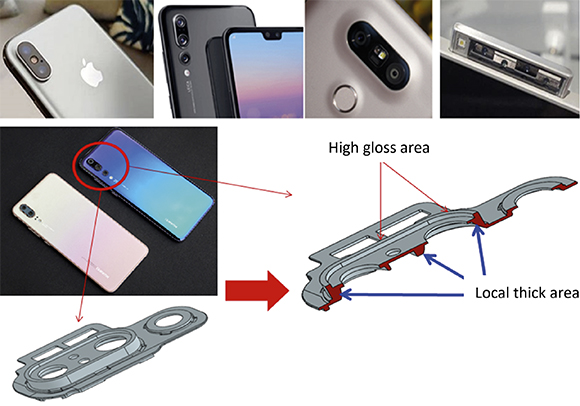 With the advent of new high-speed communication technology in the 5G era, MIM is also facing an important era of 'hidden' needs in the wider 5G ecosystem. Physically, it is difficult to solve the challenges of 5G using conventional technology, because of the demand for electromagnetic compatibility, heat dissipation, current conduction and physical manufacturing tolerances. These problems are being solved through materials science and technology, resulting in a sharp increase in the demand for MIM parts made from a wider range of materials for specific applications in 5G communication signal receiving boxes, local servers and terminal devices.
Besides the use of conventional stainless steels as structural parts, the heat dissipation and electromagnetic isolation functions of copper-based alloys and the non-magnetic properties of cobalt-based alloys are required. The strength and magnetic conductivity of nickel-based alloys, the high specific gravity of tungsten alloy vibration parts, and even the inexpensive reinforcement function of iron-based alloys, constantly bring forth new and disruptive innovations to replace existing designs. It was also stated that there is an increase in the use of the sinter joining of 'green' MIM parts to make hollow, highly complex, or long structures.
MIM will be the best partner for product design in 5G communications. With more than two hundred MIM factories in China, the technology is able to support the move to the 5G era.