Around half of global MIM production, about $1.5 billion, comes from China including Taiwan, with the latter accounting for around $300 million of sales.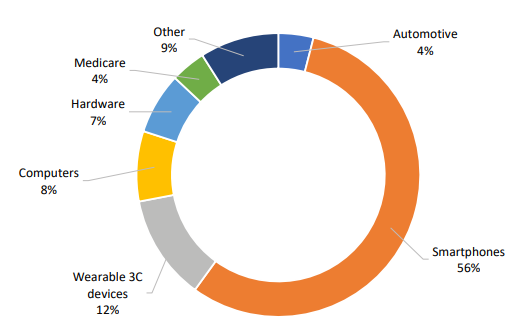 As seen in the figure, in 2021 the vast majority of China's MIM parts went to the electronics sector, with the remainder delivered to automotive (4%), medical (4%), hardware (7%), and other industries (9%). Smartphone parts made up the majority of applications at 56%, followed by wearable electronics such as smartwatches at 12%, other applications at 9%, and computer components at 8%. In all, more than 75% of all MIM applications were for the consumer electronics industry.
The future for MIM in the crucial smartphone sector is somewhat unclear. Apple recently announced that it would be ending its use of the Lightning connector in favour of USB-C, a move that will result in the loss of an extremely high volume of MIM parts. However, the growing use of MIM components in elsewhere in smartphones, in tablets, laptops, smartwatches, headphones and headphone cases should offset these losses. Other MIM components that may also be at risk as smartphone designs evolve include volume buttons and SIM card trays. Opportunities for MIM hinges in any future folding devices could be significant. This would, however, depend on the continued growth in foldable device sales.
It was reported that the majority of MIM parts produced in Taiwan were also consumed by the consumer electronics sector (60%), while 17% went to transportation, 16% to industrial and 7% to other sectors.