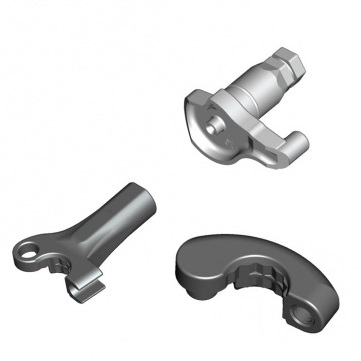 Metal Injection Molding is very cost-effective for manufacturing high volume complex metal parts. The MIM technology allows varied industries to produce components with very minimal material wastage. MIM reduces assembly part count and the number of bond joints in a component. This reduces the requirement of an assembly process (machinery, equipment, tools) and associated manpower.
Due to the MIM technology's ability to produce high volumes of precision components to net-shape, metal injection molding has become a very important manufacturing technology. The combination of higher volume cost reduction pressure and increasing design complexity is pushing industries to adopt MIM technology.
MIM of titanium components is currently limited to high-performance applications or luxury consumer products where titanium adds exclusivity and marketability. Advancements in using superalloys and materials for MIM has been the main area of R&D. Supplier evaluation is very critical in the automotive industry. Automakers follow extremely sophisticated supplier sourcing strategies.
The advantages of MIM process include:
1 – Allow complex parts to be shaped in a single operation and the ability to produce these complex parts in mass volume.
2 – Tough mechanical property – same as CNC machining, stamping, forging, etc.
3 – Reduced weight
4 – Cost effective
5 – Green technology