Powder Injection Molding (PIM), including Metal Injection Molding (MIM) and Ceramic Injection Molding (CIM), is an advanced forming technique for producing shaped components from powders, in high volume. This process uses injection molding technology to produce small, high volume and complex parts to tight tolerances. The best applications are typically less than 100 grams in weight.
In PIM, fine metal or ceramic powder is mixed with polymeric binder material to comprise a feedstock that can be handled by plastic processing equipment. The feedstock is heated in a screw-fed barrel and injected as a liquid, under pressure into the mold cavity, where it cools and is subsequently ejected. The polymeric binder material is then removed, and the part is sintered to form the final product. The debinding stage, when the polymer is removed, can significantly affect the mechanical properties of the sintered component.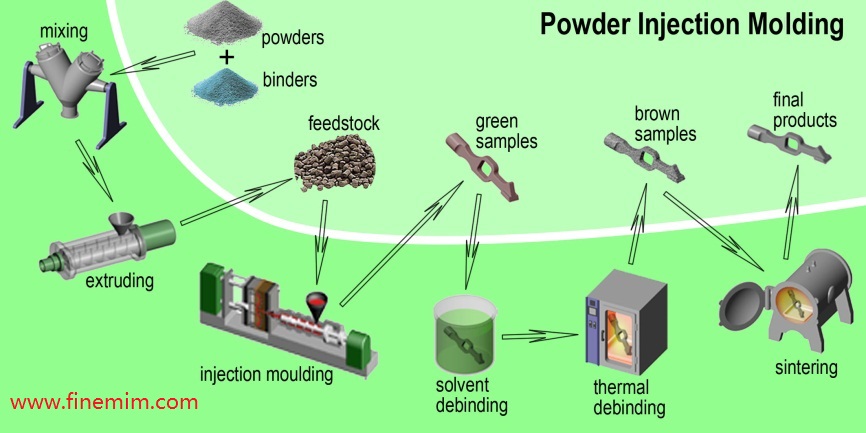 Powder Injection Molding is a well-established net-shape fabrication process which combines the merits of plastic injection molding and powder metallurgy. It is suitable for the production of small, complex, thin walled parts in high volumes with tight tolerance at a competitive price. In the PIM process, fine metal and/or ceramic powders are mixed together with polymer binders (~35 vol.%). The mixture is extruded to great uniformity and pelletized into feedstock. The subsequent injection molding operates above the melting point of the binders, at which the resulting semi-solid feedstock is injected into a mould for green shape formation. The binders are then removed out of the green part through solventand/or thermal de-binding, resulting in a porous brown part. The brown parts is finally sintered to 96~98% theoretical density with mechanical properties generally comparable to forged parts.